To use the parent functions, one or more children's account information needs to be bound, so as to facilitate synchronization with the latest learning content of children on the teacher platform.
Now Practicing: here, parents can learn the new unit content and course progress of their children in the first time.
Reports: parents can get the study report of their children at any time, and know the level of their children's weekly study unit, class duration and after-school game activities (including stickers and crown level).
Library: the unlock of storybooks on the game platform is synchronized with the teaching content on the teacher platform. Parents can know the storybooks that their children can read on the game platform at any time, and review and consolidate the learning units with their children.
Settings: through setting interface, parents can effectively control their children's playing time according to their actual situation, and develop good learning habits.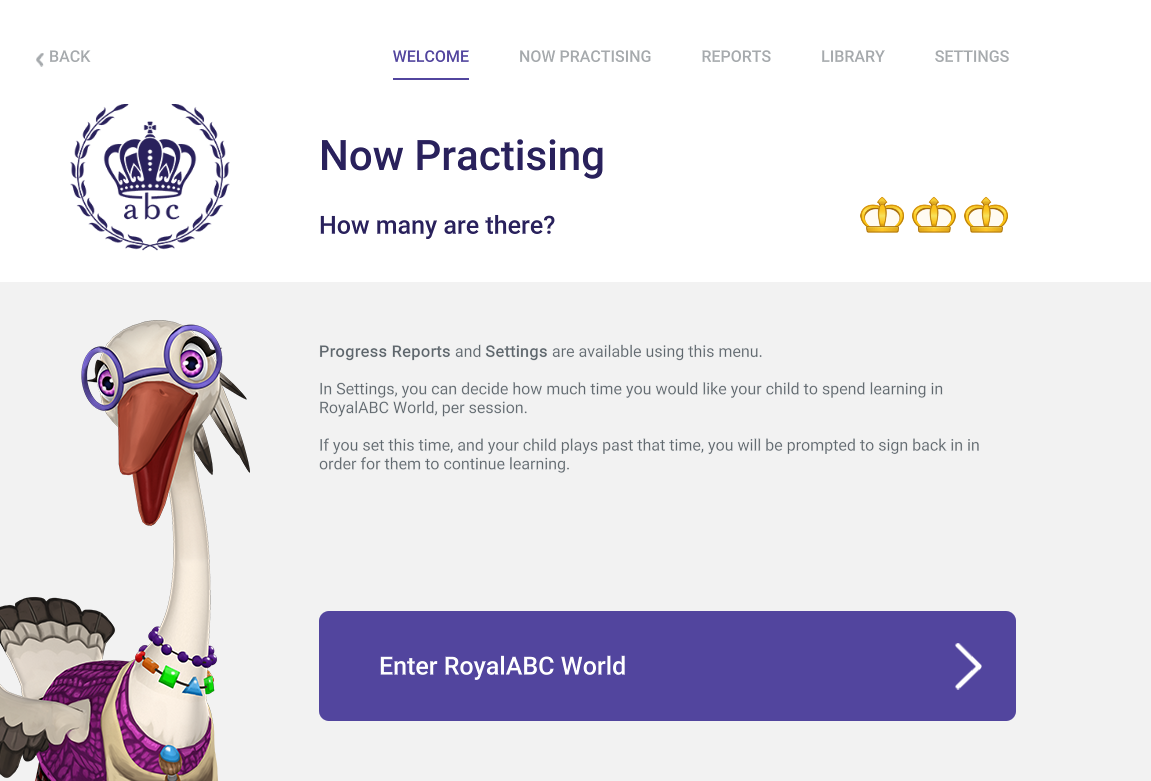 RoyalABC uses a blended learning approach to classroom teaching where lessons are designed to be student-centred. This is designed to encourage collaborative learning experiences where students work together, teaching, guiding and assisting each other through interactions that maximise learning and development. Our blended learning lessons allow teachers to integrate their teaching styles with simple transitions between our digital teaching platform, our physical materials and activities and, of course, the teacher's engagement with the children to maximise RoyalABC's learning objectives. Many of the lesson activities are designed to encourage a version of total physical response (or TPR), so children are, across all senses, engaged in physical activities such as dance, movement and games as part of the language-learning process. The digital element of RoyalABC is an enabler to children and teachers interacting together rather than a passive one-way screen-based experience.